TETON TENT RENTAL-FAQ & Please Help Me Questions:
---
Basic Planning Questions
1) What tent size tent do I need for my party? Where do I start?
Tents are sized by square footage but there are some general rules to follow when sizing the tent needed. Generally, for every person under the tent, you need 10 square feet. So for 10 people you need 100 (10×10) square feet. A 10×10 is 100 square feet. Common sizes are: 20×20 for 40 people (400 sf), 20×30 for 60 people (20×30), a 20×40 for 80, a 30×30 for 90, 30×40 or 20×60 for 120 people, etc. These are general starting points.
When planning what size tent to rent, consider if everyone will be under the tent all at once and if you want room for drinks and food. Another major deciding factor is what type of table you would like to use. Round tables are sometimes considered better for conversation but they need more room than rectangle tables. These charts give you a good starting point for your planning process.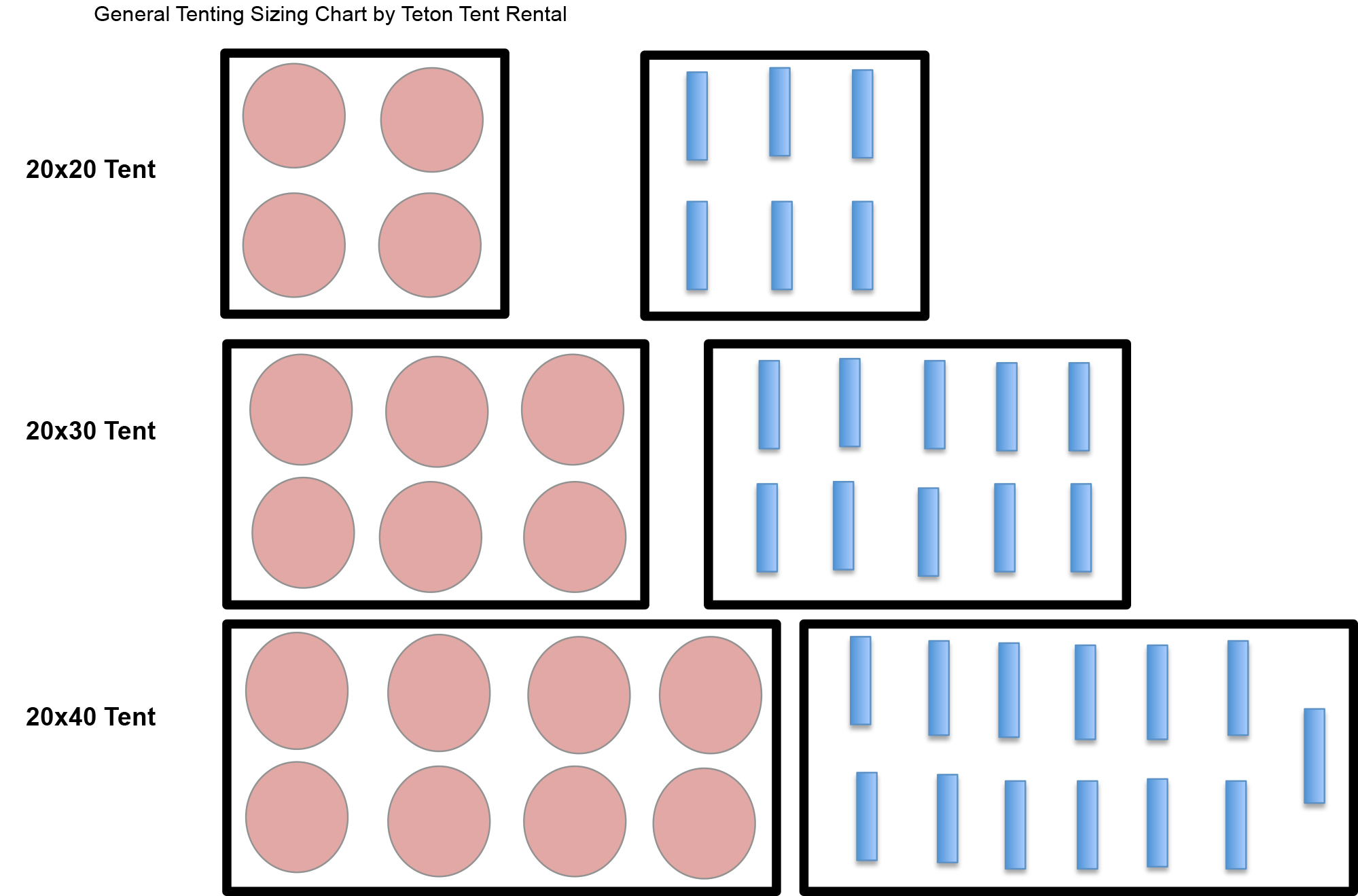 ---
2) Will I need to add sides to my tent?
Sides are great for helping stop wind, stopping driving rain AND giving privacy. With weather, most people like to put sides on a tent only if it is going to windy or raining and windy. The reason behind this is because the tent will get very warm with 2-3 sides of the tent enclosed AND guests under it. During the warm summer months, sides are usually make the tent too warm and end up being propped up out of the way. During cooler months, they help keep the tent comfortable.

---
3) When do you deliver?
We typically delivery 1-2 days before your event unless you have specific delivery requirements that require a certain time set up. These can include same day set up (surprise party or public event) or late night pick up (public location). We like to set up a few days in advance so you have time to decorate and get ready.

---
4) What is your cancellation/deposit policy?
Our current deposit policy requires a 35% deposit that is refundable if the event is cancelled 21 or more days prior to the event. If you need to cancel within the 21 day window, you will forfeit your 35% deposit. If you cancel within 24 hours of the event, you are liable for the full amount.

---
5) How do I get a refund?
If a refund is warranted for a cancelled event, a check will be mailed or a credit card fee will be credited back to your card. It is up to Teton Tent Rental to decide which they will use. All credit card fees will be withheld from a refund.

---
6) Do you stake the ground when setting up on concrete/asphalt?
We typically DO NOT stake asphalt or concrete when we work on those surfaces. We bring 250-300 lbs. weights for each leg of the tent. There is a charge for each weight.

---
7) How long is the rental period for?
Our typical rental periods are for a 24-72 hour period. For the weekends, we usually deliver on Thursday or Friday and pickup the day after your party. If you have a Saturday party, we may pick up on Sunday.

---
8) How many tables can I fit under my tent?
The number of tables that a tent can fit varies by the type of table and the size of the tent. GENERALLY, rectangle tables more efficiently use the space under a tent compared to round tables. Round tables with chairs need a 10×10 space for every table.
As an illustration: A 20×20 tent can handle 4 round tables or 6 rectangle tables. A 20×30 can handle 6 rounds or 10 rectangle tables, so on and so forth. If you want round tables for your event, just know going into the planning process that you may need more tent than you would have if you were going to use rectangle tables.
You can see the difference with these charts.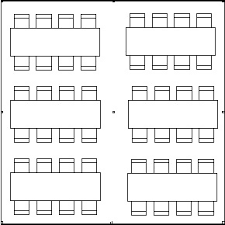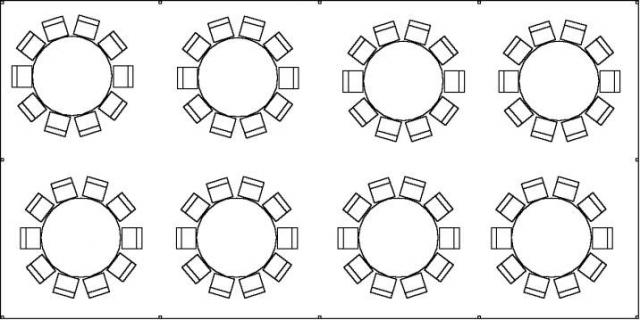 ---
9) How much wind can the tents and canopies take?
Generally speaking, the TENTS are rated to take up to 50+ mph winds in 3-second bursts when properly staked to the ground. CANOPIES are much less and can only handle up to 20-25mph winds.

---
10) How much space do I need to have a tent safely set up in my yard?
You should reasonably set aside a perimeter around the size tent that you want or need. A 20×20 needs about 25'x25' of space. A 30×30 needs about 35'x35'. These are general rules and every scenario is different.

---
11) Can a tent be set up on a deck or over a small tree, pool or other obstruction?
Setting up tents over obstructions and large openings such as pools can be done but it usually a case-by-case basis. There are many factors that determine if it is possible including the type of tent being used, the area around the obstruction safety concerns. The best solution is to simply call us and have a trained professional look at the yard. You can also take photographs and email them to us to help us with your answer.

---
12) How many people fit at different table sizes?
In general, a 6' rectangle table can handle 6-8 people. A 8' rectangle can handle 8-10 people. A 60" round can handle 8-10 people. A 48" round sweetheart table can handle 4-6 people.
This HANDY CHART MAKES IT EASY TO SEE THE ANSWER.

---
13) Does the ground need to be perfectly level to have a tent set up on it?
The ground should be relatively level for a tent to be installed. Any more than a 1-5 degree pitch and it is unsafe for the tent and won't be enjoyable for your guests. If you are still unsure, snap a photo and email it to us to look at. We can usually get a good idea just by seeing a photo.

---
14) Do I need to file a permit for a residential event?
Generally, no you do not have to file a permit for a residential backyard style event. In our experience we have yet to see a town require a permit for a backyard event. Please be aware though that laws and ordinances do change. Your town may have changed its by laws and may now require a permit. It is up to you the consumer to know if you need a permit. We can help with the requirements for your event.
---
Tents:
1) What type of tents do we offer?
We offer 4 main types of tents and canopies: You can see pictures of the options here:
Keder Frame tents are the largest and go from 30×30 to 30×100. These are used for large events. There are no center poles and they have a high ceiling.
Hi Peak tents are our most popular tents and come in sizes from 20×20 to 20×140. They have a classic peak look with no center pole on the ground.
Frame Tents are a more classic look with a complete metal frame inside holding up the top. These can be used in the winter and unique installations. There are no center poles.
Canopies are lighter weight structures that are great for low key BBQs and graduation parties. They are more budget friendly and have no center poles.

---
2) Do your tents have center poles that come to the ground under the tent?
NO. None of our tents have center poles to the ground. You can use all of the space under the tent.

---
3) How far into the ground do you need to stake?
The depth of the stake depends on the type of tent and the expected weather. Usual stakes are from 18"- 42" long.

---
4) What is the difference between your different tents? Why choose one tent over another?
The main difference between our tent are general appearance, sizes and pricing. Tents have different outlines and looks and some people have a preference of one over the other. For 2 same sized tents, it can be just appearance that guides a decision.
For larger events typically a larger type of tent is used because it can house everyone under one expanse and make the event feel more inclusive. This is contrary to having multiple tents that are spread out or connected to each other with gutters.
Ultimately there are different factors that can go into a decision. The simplest way to determine which is best is to gather all of the details about your event and call to speak with a professional. We always try to point customers to the correct tent for their needs while staying within the given budget.
---
Tent Accessories:
1) Lighting: What type of outlet do I need to provide for the lighting?
All of our lighting including the string lights, LED color change lights and Halogen ring lights use regular 120v residential power outlets.

---
2) How much power do your fans need?
Just like the lighting, our fans simply need a normal 120v residential power source.
---
Installation:
1) What type of surfaces can the tent be set up on?>
Tents can be set up on grass, gravel, stones or concrete/asphalt surfaces. In areas where stakes can not be driven into the ground, concrete weights are used to secure the tent to the ground.

---
2) What do I have to do to my yard before the delivery?
Mark the location of any underground obstacles such as SPRINKLER LINES, sprinkler heads or electrical wires. If the tent is going in the FRONT of your home, you should call 8-1-1 dig to have your yard marked by the utility company. This is a FREE service.

---
3) Do you stake or drive posts into concrete?
No, we typically use weights to secure the tent when we can not use stakes on concrete or asphalt.
---
General Q&A :
1) How should I return linens?
When done with you party, simply shake out the lines and put them into a trash bag for us to collect when we pick up the items.

---
2) What to do if I want to add something at the last minute?
Let us know AS SOON AS POSSIBLE if you have changes to your rental order. The more time we have, the better the chance we can fulfill your need. All last minute add-ons are subject to availability. We have many items in stock but some things are rented in full. We have other partners to turn to but sometimes we cannot get ahold of items.

---
3) What is your delivery radius?
In general, we deliver within a 50 mile radius of Haddon Heights, NJ. Orders in Pennsylvania are the exception to the rule and are a case by case by basis. We usually just service the eastern side of PA and stay on the east side of Philadelphia.

---
4) What parts of south New Jersey do you go to?
We handle all parts of south Jersey. We usually stay below the I-195 corridor.

---
5) Can I pay online?
Currently we DO NOT have an online form that you can pay on. We plan to add this in 2016 and will offer it to you when it is available.
---
Emergency Procedures:
1) What should we do if something looks wrong with the tent while it is on our property?
Tent safety is very important to us. It is important that you get all guests OUT from under the tent and contact Teton Tent Rental immediately. Under no circumstances should you resume using the tent until the issue has been resolved by Teton Tent Rental. Contact us at 856-617-1872.
If someone is ever hurt by a piece of equipment and it is life threatening, call 9-1-1 immediately.
---
Fees:
1) How do you charge for delivery?
We try to keep our delivery prices low but they do exist. We typically charge on graduated range. Surrounding towns to Haddon Heights, NJ pay the lowest fee. Then we charge for 15 miles and under, 25 miles and under, 35 miles and under, etc.. PA delivery charges are on a case by case basis.
---
Payment:
1) Do you accept credit cards?
Yes, we accept all major credit and debit cards.

---
2) What payment forms do you accept?
We accept cash, credit, debit, money orders and cashier's checks.

---
3) How does the payment process work with your company?
Customers typically pay their deposit via credit card over the phone, check or money order mailed to us. The final balance is paid the week before set up and is paid via cash, check or card typically. Special arrangements will be made for day of collection.
---
Public Events:
1) Who do I call about utilities underground?
8-1-1 is a free service paid for by the state for marking utilities. They do this so there are no costly repairs when unsuspecting companies and homeowners dig in the ground.

---
2) When do I need to file a permit?
You should start the permit process as soon as possible to insure that there are no issues with the government and your event. Teton Tent Rental will help you every step of the way to secure your permit. This can include drawings and proof of fire retardant material for the local fire marshal.
---